Working harder isn't the solution to your church communication problems.
Overcome the four most common communication challenges:
Strategy, Systems, Knowledge, and Talent
FIX YOUR FOUR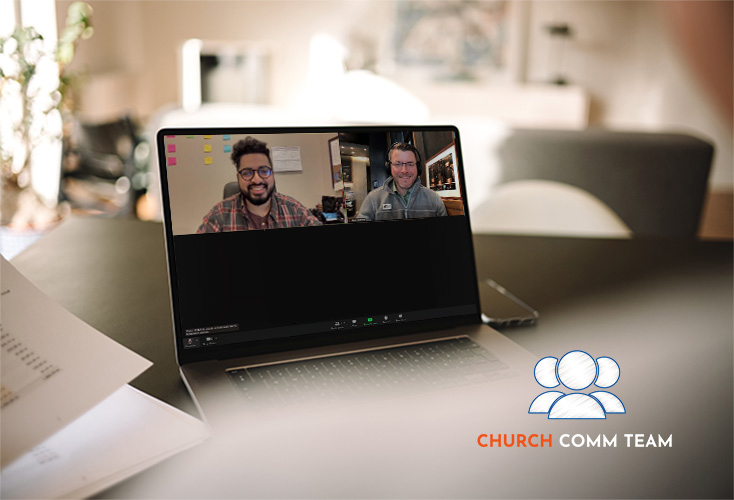 We help fix these 4 common communication challenges:
Strategy, Sytems, Knowledge, and Talent…
Our remote communications leaders are experienced communicators who understand church communications and are equipped to help you improve the way your church communicates online and offline.
As your communications partner, we work with your team to:
Develop a clear communications strategy
Build an efficient system to manage requests
Equip your staff with knowledge of best practices
Provide you with offsite talent to help execute your strategy 
Our clients depend on us for…
Communications strategy
Our experienced team will work with your leadership to develop the right plans for each of your communications goals as we help you think through best practices for the size and context of your church.
Communications process management
We will work alongside your staff and volunteers to train them to use project management software, submit requests for design, social media, and website updates along with many other communication needs that may arise.
Content Creation & Support
Our team will use our collective expertise and skill to support your graphic design, website, email, marketing, social media, signage, and internal communication needs
Maintain Brand Identity
We help you create an image of who you want to be to your community through brand guidelines and social ad campaigns and keep you in front of the people you are trying to reach.
For less than the cost of one full-time employee, you get a full team of communications professionals to help you execute your vision digitally and strategically.
Meet Your Communication Guides…
Paul is a trusted voice in the Church Communications space nationally and has served as both a Lead Pastor/church planter and as Communications Pastor at Lake Pointe Church (Dallas).
Paul is also the founder of both
ChurchINK.com
and
ChurchSwag.com
, serving the print, promotional, and signage needs of thousands of churches.
Frequently Asked Questions
In order to clarify some of our plans in more detail, we have put together a set of frequently asked questions so you can see what it looks like to partner with Church Comm Team.
What does a typical week look like working with Church Comm Team?
Execution meetings are about 1 hour long and are scheduled once a week with your SitePM, Lead Strategist, & your team. These meetings happen via Zoom.
The first three months are already planned and ready for discussion to help you onboard a new system, add tweaks to your current system, plan social media, talk through goals, etc. Think of it as a staff meeting.
During the week, we are in almost daily contact with you as needed via Monday or Slack and Premium and Advanced plan partners have the option of calling an extra meeting each week as-needed for emergencies or extra planning.
What does Unlimited Graphic Design actually mean?
Unlimited graphic design means you can have unlimited graphics requests. However, the plan you choose determines the number of hours your project manager can arrange things for you. This helps to throttle the workload and time for our team.
Part of how we help churches improve their whole process is learning to request things further out in advance so that more work can be accomplished in the long run.
What do your team titles mean?
The
Site Project Manager (SitePM)
is the person who manages requests, assigns tasks, follows up on work, and delivers work for your church. They are boots-on-the-ground support for helping you get work done and smile more.
The Lead Strategist (LS) functions as your coach and content advisor. This person meets with your team weekly to help you plan ahead and think through best practices for your church context. They also are responsible for creating content such as graphics, copy, or updating your website. This person will help you address your communications team and strategy as a whole.
The Leadership Coach (LC) will meet with your church leadership and function as a coach for internal communication between departments. The LC will help your leadership define healthy goals for communications and bridge the communication gap between the comms team and the leadership team.
What does "priority response" mean?
We work pretty fast for all of our partners, but the different response times simply have an internal timeline attached to them. 
What is the difference between Website Content Updates and Website Development?
Website content updates are simple updates that require no coding or multiple page creation. Updating images, copy, & creating new pages are common examples of content updates.
Website development would be anything that affects the functionality of the website, any coding necessary, or addressing connectivity issues like analytics tracking, routing email addresses, or dealing with the DNS records. Our Premium package offers up to 6 hours per month of development included. If other plan holders wish to contract development out, we can handle that for them.
We typically prefer to work with WordPress or Squarespace sites, but will work with what you have and may suggest upgrades or solutions. The same guidelines apply if your church has a mobile app you want us to update.
What happens once a request is filled out?
When someone fills out a request form, a new task is created in Monday. Your SitePM will then take the info from the request, assign it to those who need to work on it, set deadlines, and manage it. Learn more about our processes and forms HERE. 
What tools do you use?
We use Monday for project management, Slack for messaging between team members and Buffer for scheduling social media. All three of these have a different purpose.
Monday is for getting work done. This will be the main area where your communication team and ours will work together on projects. There is no direct messaging feature in this software.
Slack is for direct messaging, emergency response, & sometimes a little fun. It functions as a messaging system for ideas as well as the "oh no, what am I going to do?" moments in ministry. It is also a place where we can communicate announcements & drop free resources for all of our clients at once. 
Buffer is for scheduling social media once the content is approved. We will work on the content together in Monday and once approved, your Site Project Manager will move and schedule content in Buffer to go out. This helps us work together, avoid overlapping posts, and develop a strategy that is responsive, not reactionary.
What is "Plan Your Visit?"
The Plan Your Visit communications system is a way to automate visitors from your website to a personalized visit using your Website, email, text messaging, phone calls, and your first impressions team.
We help you create a workflow for all of those things to work together to make a visitor's first visit seamless and easy.
How do you help us organize, expand, or hire for our communications team?
In our Premium and Advanced plans, we can help you create job descriptions for whatever positions you would like to create as you plan for the future.
If you need help thinking through your team structure, what those positions look like, or even vetting a final candidate, we can help you with that.
Start a Free Consultation
Fill out this short form and let's talk. We will contact you to set up a call to discuss how we can help you communicate better at your church!